ONLINE SHOP
Explore the World of Dilmah
Dilmah in Hospitality and Food service
Integrity & Ethics
Dilmah Tea Inspired
Leisure and Hospitality
Knowledge & Training
Online Shop
Dilmah's Family Legacy Is Set To Continue With The Appointment Of A New CEO
Dilhan C. Fernando of Dilmah Tea talks to Viva about continuing the legacy his father built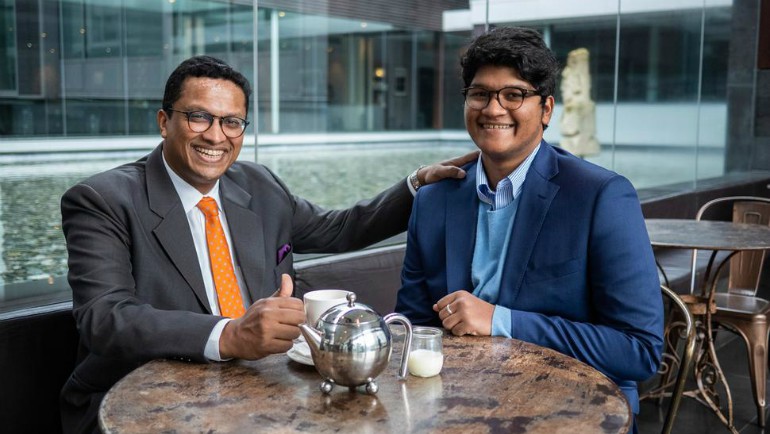 Despite having studied at London's esteemed School Of Economics, Dilhan C. Fernando started his career by working in a tea field.
When the youngest son of Dilmah Tea founder Merrill J. Fernando returned home with his degree, his father was adamant that he had to learn life lessons in "his university", Dilhan says.
"Among the many things that my father taught my brother and I, the most significant is humility," he says.
"That meant starting at the bottom and in my case it was in the factory. That was a simple but critically important principle that many forego today – that without understanding the task and having operational knowledge and experience of it, one cannot hope to manage others in performing that role."
He's speaking, of course, about his recent appointment as Dilmah's CEO. Having taken the reins from his father, Dilhan says he's honoured to be charged with continuing the legacy his father built.
"It's a tremendous honour," he says of the appointment. "Given the alignment and purpose of our business, it is also a responsibility that goes beyond the conventional role of a CEO. Our business has three dimensions – taste, goodness and purpose – each with very significant implications and each complementing the other to fulfil my father's vision and philosophy," Dilhan explains.
"As CEO, the responsibility I shoulder is to ensure that I honour these founding principles while stewarding the Dilmah tea business into the third generation. That is an incredible honour as it serves a strong and relevant purpose, but it is also the hardest task I have ever undertaken as it's a direction that goes against what every other brand in our category follows."
Dilhan was only 20 years old when his father started the brand back in 1988, and for the past 31 years Dilmah has been producing teas that are steeped in family heritage. In fact, the name of the tea brand combines the first syllable of Dilhan's name with his brother's, Malik.
The businessman shares three children with his wife, Serena, and says his son Amrit has already shown interest in joining the family business.
"Amrit has tasted tea since the age of three and shares my love for the herb. Amrit is currently a trainee at Dilmah, working in the factory as I once did. He will soon go to university and return to join the business," Dilhan says.
Instilling the same family value of humility as his father did with him, is a top priority for Dilhan, saying: "the very common sense of entitlement that many heirs to family businesses have is often the cause of their demise."
"In our case it has always been clear that our success is a blessing from God and that with success comes an obligation to share. Combined with a sense of humility, one can always respect the obligation that every business has to pass on blessings of success and share with those less fortunate."
With his 90th birthday looming, Dilhan says Merrill is looking forward to stepping back from the business to enjoy more travel and time spent with friends – although adds he'll likely pop into work from time to time to share "guidance, inspiration and experience."
Now, as the Dilmah patriarch passes the torch from father to son, Dilhan says he's committed to keeping his father's vision alive.
"My father's legacy is a formidable one. It is not simply expressed in a brand and associated structures and companies, but in the lives of several hundred thousand people, both on tea gardens and in the wider community in Sri Lanka," Dilhan says.
Dilhan is referring to the Dilmah's myriad charitable efforts – from launching the MJF Charitable Foundation to establishing MJF Centres Of Hope across Sri Lanka to benefit the wider community and create opportunity where there previously was none.
As CEO, Dilhan says he's looking forward to driving how Dilmah's "humanitarian and environmental programs evolve, focusing on issues like climate change adaptation, supporting small farmers in coping with a warming climate, helping youth with knowledge to empower them and ease the inequality we see in too many parts of the world.
"My efforts will be aimed at reinforcing the legacy that my father has created and aligning those same founding principles with the preferences of a 21st century consumer."
After 66 years, you'd imagine the business would feel challenged to stay relevant. In fact, Dilhan says it's quite the opposite. He chalks the resurgence in tea consumption to the rise in wellness trends and an "appreciation of the unique antioxidant potential in tea."
"Tea has amazing functional relevance in the natural antioxidants that protect us from the impact of stress, from heart disease, stroke, dementia, cancers, pollution and so many other chronic illnesses and unpleasant aspects of 21st century life," Dilhan explains.
Beyond wellness, Dilhan maintains the luxury aspect of tea drinking as a driving force behind its popularity. Aroma, taste, texture and character are contributing factors to the perfect cup of tea, which Dilhan says many people continue to treat as a moment of 'me' time amid the busyness of modern day life.
"Tea has a combination of functional and sensory benefits that form the foundation of its appeal and relevance in the 21st century."
This is part of a special Viva and Dilmah editorial series. To see more, go to
Viva.co.nz/Dilmah
.