ONLINE SHOP
Explore the World of Dilmah
Dilmah in Hospitality and Food service
Integrity & Ethics
Dilmah Tea Inspired
Leisure and Hospitality
Knowledge & Training
Online Shop
Qantas Lounges Melbourne win Australian Dilmah Real High Tea Challenge 2014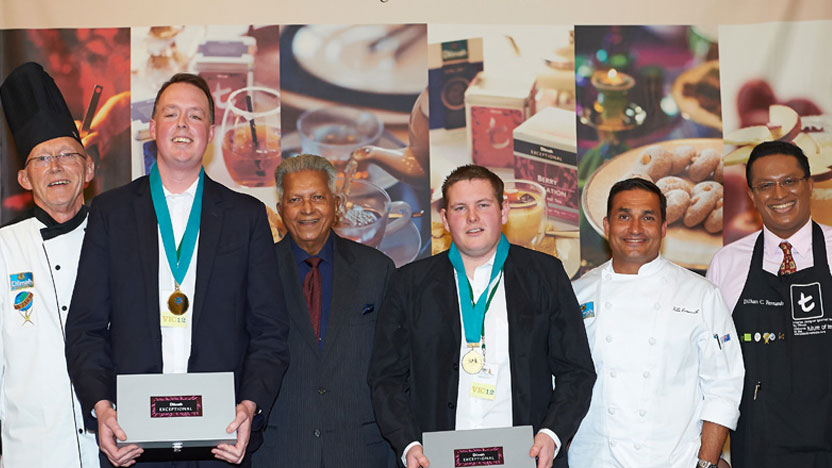 Qantas Lounges Melbourne has taken the top spot in this year's Dilmah Real High Tea Challenge – the professional series – the world's only tea based cooking competition.The Hilton Adelaide and cool cats Bloodwood from Newtown in Sydney were also winners, taking out second and third place respectively. They will all receive a VIP trip of a lifetime to spectacular Sri Lanka, the home of Dilmah tea.
The overall winner, Qantas Lounges Melbourne, will also compete with the world's best culinary tea masters for the chance to be crowned Global Real High Tea Challenge champions in 2015. A World Association of Chefs (WACS) accredited event, the Real High Tea Challenge is a global competition and provides ambitious chefs with the unique opportunity to demonstrate their skills, pitting them against their peers in this demanding and technically complex gastronomy challenge. This year's high profile panel of judges included Australian celebrity chef Peter Kuruvita, Dilmah's own tea master Dilhan C. Fernando, son of Dilmah founder Merrill J. Fernando, and German born ACF Black Hat chef Bernd Uber.
Over two days in both Melbourne and Sydney, the judges sampled expertly crafted menus and awarded marks based on the understanding of the high tea tradition as well as demonstration of different brewing techniques, creative use of tea as a core ingredient and outstanding presentation and service.
Winners Sean Thompson and Geoff Laws from the Qantas Lounges Melbourne created a number of tea infused dishes to win including the delicious, Dilmah Uda Watte smoked duck, chilli jelly & pickled vegetables.
Sean and Geoff say of their win "This competition really pushed our culinary boundaries and we feel we have accomplished quite a feat by taking out the top prize. Until this competition, we had limited knowledge of the use of tea as an ingredient in food but now it is something which we are far more comfortable with including in menus – we look forward to continuing to experiment with the herb in the future".
Teamaster and Dilmah founder, Mr Merrill J. Fernando, is thrilled at the progress tea has made in the culinary world commenting "Tea is really so much more than what initially meets the eye – not only is it a soothing drink, both hot and cold, but is also the most versatile herb to be used in the kitchen. I am proud of the winners, their gastronomic ingenuity and their true respect of tea and the high tea tradition".Designer Profile